Szczegóły

Kategoria: gb
Technology and Marketing Office – eng. Sławomir Podgajny, M.A.
95-060 Brzeziny, ul. Konopnickiej 20, POLAND, Łódź province
tel./fax +48 46 8742813, tel. +48 60 1314947,
www.ttm.pl   e-mail: Ten adres pocztowy jest chroniony przed spamowaniem. Aby go zobaczyć, konieczne jest włączenie w przeglądarce obsługi JavaScript.
Engineering, Technology, Machines, Marketing
for food and similar industries
SMALL FOOD PROCESSING PLANTS
MACHINES, DEVICES, FOOD TECHNOLOGIES,
BOTTLING AND PACKING MACHINES
Our Company has been present on the market since 1989. Its original, advisory and consulting profile changed, and it became a production company.
We specialize in the realization of small and medium-sized complete technological production lines, manufacturing e.g. fruit and vegetable products (such as canned cucumbers, vegetable juice, sauerkraut, pickled cucumbers and other vegetables, salads, peeled potatoes, and vegetables with extended shelf life), as well as ketchup, sauces, tomato puree, mustard, horseradish, mayonnaise, and dressing; the Company is also the manufacturer of the basic machines and devices used for the above mentioned production.
We manufacture the machines, and we use them as the basis for the development of bottling lines for liquid and semi-liquid products. Our devices are used in Poland, Germany, Lithuania, Latvia, Belarus, Ukraine, Russia, Kazakhstan, and Moldavia.
The scope of our production, realized exclusively with the use of AISI304/AISI316 materials, includes, but is not limited to the following:
tank devices (tanks, mixers)
slow-speed impeller pumps
emulsifying and homogenizing devices
loose components mixers
wet disintegrators and corundum mills
cabbage slicers
juice pumping presses
turntables, tables, frames, tubs, auxiliary devices
apron, roller, and belt conveyors
liquid and semi-liquid products feeders
twisting machines for containers closures (e.g. T-O type)
automatic labeling machines for paper labels
container labels shrink wrapping machines
welders, packing machines, heating tunnels
We like facing challenges; that includes manufacturing of prototype devices and installations which are not typical projects, which are customized; also for such related industries, as household, cosmetic, and pharmaceutical chemistry.
Please be aware of the fact, that our offer is supplemented by the consultations concerning technical and technological aspect of production, GMP, GHP, and HACCP standards, developing the concept projects of enterprises, technologies, standards, and product recipes (the new ones as well), completion, delivery, assembly, technical and technological start-up of devices.
You are welcome to review our offer, as well as to discuss it and to visit our Company.
Visiting us, you will have the opportunity to stay at the nearby hotels:
"Hotel nad Mrogą", Rochna 3A, 95-060 Brzeziny, www.rochna.pl, Ten adres pocztowy jest chroniony przed spamowaniem. Aby go zobaczyć, konieczne jest włączenie w przeglądarce obsługi JavaScript.
OSW "RELAKS", Rochna 3B, 95-060 Brzeziny tel.  +48 46 8743385, +48 600 372948
Hotelik "MAWI", 95-060 Tworzyjanki 3, 95-060 Brzeziny,  www.hotelik.mawi.com.pl, Ten adres pocztowy jest chroniony przed spamowaniem. Aby go zobaczyć, konieczne jest włączenie w przeglądarce obsługi JavaScript.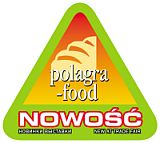 NEW AT TRADE FAIR POLAGRA-FOOD'2009

Engineering, Technology, Machines, Marketing
for food and similar industries

SMALL FOOD PROCESSING PLANTS
MACHINES, DEVICES, FOOD TECHNOLOGIES,
BOTTLING AND PACKING MACHINES
Technology and equipment for the production of sea buckthorn juice (nectar) and oil.

A proposal of a complete processing line enabling the production of juices, nectars ad oil from the sea buckthorn.

Technology and equipment for the production of preservatives-free vegetable juices (including the so-called one-day carrot juice).

A proposal of a complete processing line enabling the production of a new category of fresh juices (with no preservatives added,

unpasteurized). Technology and equipment for the production of peeled vegetables of prolonged shelf life, including ready-to-serve cooked potatoes.

A proposal of a complete processing line enabling the production of peeled vegetables (potatoes, beetroots, carrot, etc.) vacuum-packed, with prolonged shelf life (up to 12 months).
Technology for the production of peeled vegetables of prolonged life and production equipment for a small technological line.
Since 1989 TTM has been dealing with realization of small food processing plants and, at the same time, delivery of technologies and self-made basic parts of their technological equipment. We make devices connected with the production of fruit and vegetable preserves, food concentrates, mustards, mayonnaises, ketchups, horseradishes, including bottling devices.
We offer the know-how for the production of vacuum packaged, peeled vegetables, especially potatoes, beets, carrots of prolonged life – even up to 12 months. The products obtained with the use of the offered technology are in the form of semi-finished products for gastronomy or provisionally prepared food for landladies (after several minutes of heating up they are ready to consume). The products made according to the proposal, especially potatoes, preserve their proper colour in the time of their consumption usefulness. There is also a possibility of our offering the proper technological equipment for a plant including assembly and launching. We are also able to design such a plant and put into practice GMP, GHP and HACCP procedures.
The offer is aimed at small food processing plants, especially fruit and vegetable ones, and at people seeking ideas for modernization or starting a new production.
Preferred places of realization and implementation – Poland, countries like Russia, Belarus, Ukraine, Moldavia, Lithuania, Latvia, Estonia